Happy Halloween!: Halloween Nail Art
Happy Halloween boos and ghouls!  Ok, ok, I know I'm a day early but since I don't usually do posts on weekends, I figured I'd share this to kick off this ghoulish Halloween weekend!  Today, I've prepared a bunch of different Halloween nail art looks for you!
First up is an ombré single chevron-negative space mani.  For this look, I started out with just my natural nail and a clear base coat.  Once that was dry, I placed some nail vinyls from KBShimmer on top to create 3 different paintable sections.  I then used OPI "It's A Piazza Cake", on the tips, OPI "Can't Afjord Not To" in the middle and OPI "Where Did Suzi's Man-go?" at the base.  Lastly, I removed the nail vinyls and topped it all off with some top coat.  Voila!
Some of you may know already that I'm a huge fan of the Nightmare Before Christmas (who isn't, really?)  I've loved the movie ever since it first came out.  Tim Burton's stuff in general is just cherry.  You may remember last year I did a Jack Skellington watermarble and nail art as well as a Corpse Bride watermarble and nail art which I loved!  But there was a certain little ragdoll missing last year… SALLY!  So this year I did 2 manis inspired by her!
First up is a patchwork design styled after her dress  I used OPI "Ginger Bells" and "You Don't Know Jacques", Butter London "Toff" and "Old Blighty" and Rescue Beauty Lounge "Orbis Non Sufficit".
Then, using the same colors, I did a watermarble!
Next is a design that was meant to be one thing and turned into another.  I saw Brit Nails' post with 18 different Halloween nail art looks and one of them was bloody finger prints and I wanted to recreate it.  I used OPI "Glints Of Glinda" as the base and once that dried, I did a mix of black, brown and red acrylic paint for the "blood".  I used my finger and dabbed it in the paint and then on each nail.  I went a little crazy with the finger prints, so much so that it no longer actually looked like finger prints.  Instead it ended up looking like road rash which I thought was a cool and gruesome effect so I kept it!  I topped the whole look off with top coat of course and it looked like a fresh wound!
I was cleaning my house the other day and vacuuming in the corners to get rid of some cobwebs that had made themselves at home when I thought, HEY, this would be a great and easy nail art look to do (now that I'm perusing the internet, I see that I'm not as original as I thought I was.  Haha!)  Of course, I sat down and started creating this cobweb look and didn't finish my chores until later. :)  Procrastination at its finest.  This was super easy to do!  I started out with a base of KBShimmer "Eclipse" and then topped it with a matte top coat.  Then I used Essie "Blood Curdling" and did the same technique as spun sugar nails but did it in multiple directions instead of just straight across like it's commonly done.  I made sure to add some clumps of polish in spots to mimic how spiders will spin a buggy snack in their web for later. :)  Easy and SO Halloween.
Next, I did a couple of very simple "dottifall" manis because I love doing them.  They are easy and festive and practically impossible to mess up!  For the first dottifall, I used OPI "Funny Bunny" as the base and Zoya "Giada", Nicole By OPI "The Look Is Orange" and Essie "Licorice" for dots.
For the second dottifall, I used KBShimmer "Eclipse" as the base and OPI "Do You Lilac It?", Nicole by OPI "The Look Is Orange" and China Glaze "S'more Fun" for the dots.
I had eyeballs on the brain one weekend after visiting my friend.  We reminisced about one of our favorite movies from high school, that we used to watch together… Lemony Snicket's A Series Of Unfortunate Events.  She passed her love for the movie (and books) onto her son, who is now a super fan too.  He's even going to have a Lemony Snicket themed birthday party that he gave me all the details about, including the fact that he's going to have "the eye" on the door when people enter.  Such a cool kid with great taste. :) For those who have never seen the movie, the eye is a recurring theme (I'm assuming in the books too although I haven't read them… yet.)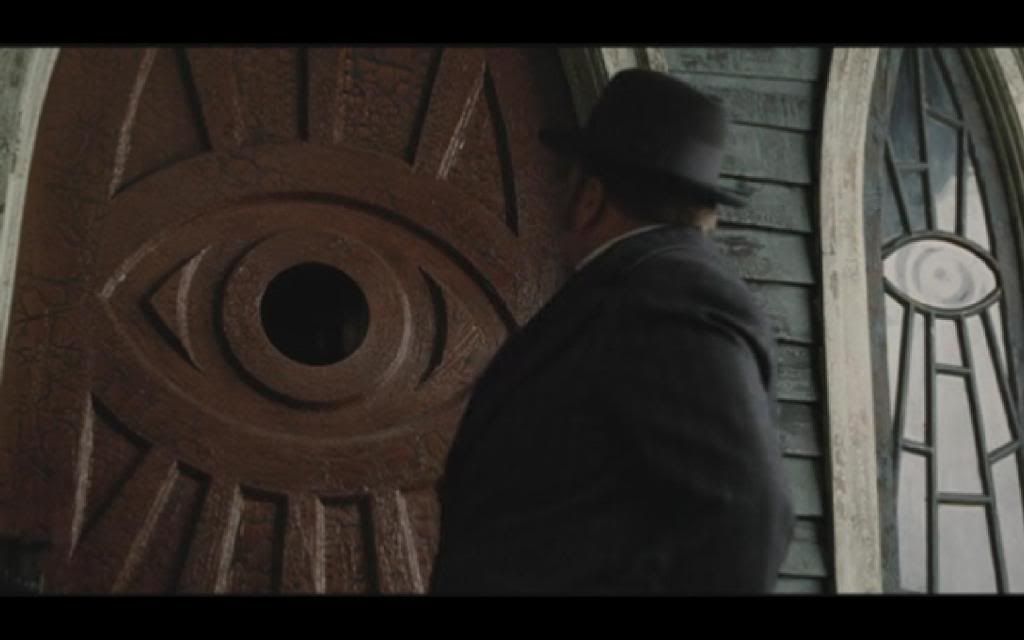 It's a great movie, if you haven't seen it, I highly recommend it!
So, I figured, why not create some creepy eyes on my nails too?  I decided on some creepy red-eye half moons with negative space and a french tip.  I used Rica "Whiteout", Cirque Colors "The Devil Wears Cirque" and Essie "Licorice".
I hoped you enjoyed this post and that you have a safe and FUN Halloween!
If you are doing something for the holiday, are you dressing up?  If so, what are you going to be?  What are you wearing on your nails?